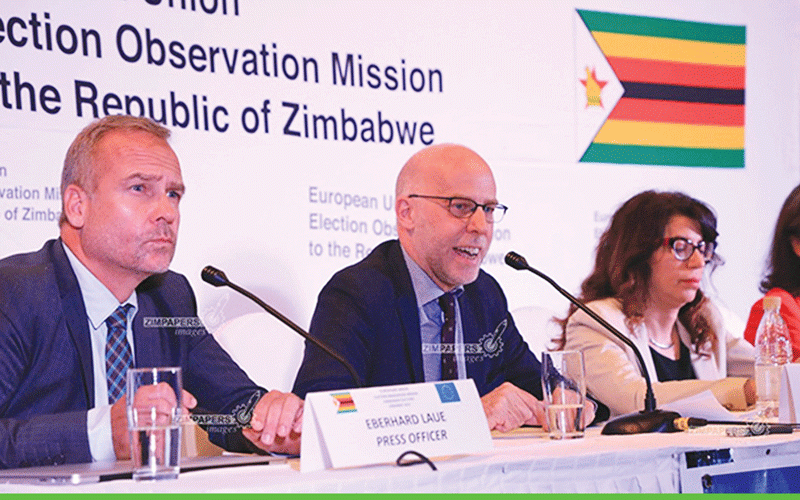 THE European Union election observer mission in Zimbabwe says despite the bad roads in Matabeleland, the mission is determined to visit all areas in the region.
The mission met journalists on Friday last week to apprise them on their progress so far ahead of the August 23 polls.
EU election observer mission's press officer Ebehard Laue told Southern Eye in an interview on the sidelines of the Press conference that they had visited Hwange and Tsholotsho, where they encountered challenges with impassable roads.
"The question is whether we reach remote areas or not, we intend to go to all areas. We have been in Hwange, we were also in Tsholotsho, the roads are a challenge there, but our mission is to reach all places," he said.
Meanwhile, journalists attending the meeting informed the EU mission about the challenges they were facing while covering the run-up to the elections.
They highlighted the recent assault of their colleagues by suspected Zanu PF youth in Bulawayo, saying such incidents were limiting their freedom to effectively conduct their work.
Suspected Zanu PF youth recently assaulted journalists, among them Annastancia Ndlovu, Pamenus Tuso and Lungelo Ndlovu while they were covering skirmishes involving vendors in Bulawayo.
The EU election observer mission is led by Italian Fabio Massimo Castaldo, a member of the EU Parliament.
The observer mission has more than 150 members from 27 EU States.
The EU mission has 46 long-term observers who arrived in the country on July 22 this year.
The observers have been deployed to all the country's 10 provinces.
Related Topics