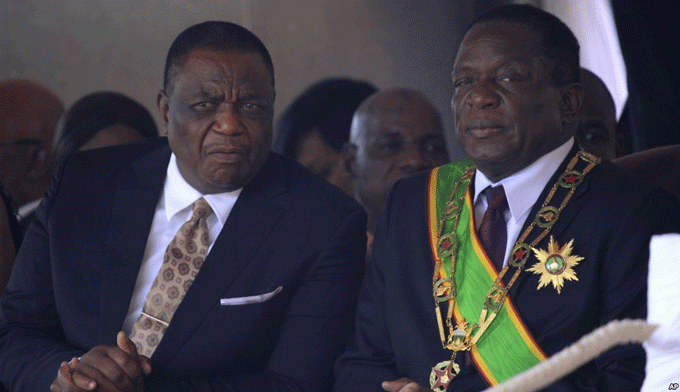 An alleged attempt to bribe President Emmerson Mnangagwa and Vice President Constantino Chiwenga by executives from the Industrial Development Corporation of Zimbabwe (IDC) using fertisers is being investigated by the country's anti-graft body, it has been revealed.
Disgruntled IDC employees triggered the investigation by the Zimbabwe Anti-Corruption Commission (Zacc) after they presented a dossier of alleged corrupt activities that included the flouting of tender procedures.
They claimed IDC chairperson Winstone Makamure and acting general manager Edward Tome allegedly purchased fertilisers without following the due tender process and tried to donate them to Mnangagwa and Chiwenga.
Makamure and Tome were allegedly trying to influence the two leaders to give them an audience so that they could defend themselves against corruption allegations rocking the biggest state-owned industrial institution.
Mnangagwa and Chiwenga are said to have refused to entertain the duo.
"Tome is pushing to be appointed substantive general manager so that he can cover up his shenanigans," read part of the dossier submitted to Zacc.
"He favours management instead of general staff in terms of salaries and benefits.
"Resultantly, the chairman and the general manager are in connivance to ensure that their misdeeds are covered up.
"They bought 30 tonnes of fertilisers from (a company named) and donated to HE (Mnangagwa) and VP (Chiwenga) to buy their audience, but both refused to entertain them and just told them to leave the fertilisers in Kwekwe.
"They haven't met them up to now. The company is struggling to pay for the fertiliser up to now."
Anyway Mutambudzi the chief director for presidential communications, yesterday said he could not comment on a matter that was under investigation.
"It would be improper for me to comment on a matter that is under probe by a constitutional institution," Mutambudzi told The Standard.
"We would not want to interfere with the investigations. Zacc can answer to that."
Zacc spokesperson Thandiwe Mlobane confirmed the developments and said the matter was being investigated under case number HCR26/01/23.
"I can confirm that Zacc received the report from IDC staff and like all other reports, it will be investigated," Mlobane said.
The IDC executives are said to enjoy protection from some named top government officials.
Zacc investigators are said to have descended at the IDC offices on January 24 and served the institution with a warrant of search and seizure.
The aggrieved employees accused Makamure and Tome of abusing power by employing their relatives and giving them influential posts.
They were also accused of allocating company vehicles to their allies within the company and the vehicles were allegedly being used for personal business.
The workers claimed IDC incurred unnecessary costs from overstaffing and vehicle maintenance as the two were allegedly creating new posts in the organisation.
Contacted for comment, Tome said he was in a meeting. He had not responded by the time of going to print.
Makamure also did not respond to questions sent to him.
IDC is mandated to identify, develop and implement new and existing industries and industrial undertakings that promotes decentralisation of sustainable industrial development, equitable employment and empowerment opportunities in Zimbabwe..
The state-owned investment group has vast investments covering vehicle assembling, cement and chemical manufacturing, real estate, fertiliser production, edible oils manufacturing, mining, and industrial engineering among many others.
Related Topics